Wide Loop (Hook Compatible)
Made in

Taiwan
Spec
Pattern:Plain Dyed
Style:Other
Technique:Knitted
Type:100% Nylon
Color:Black, White
Key Features
Wide Loop (Hook Compatible)
:
Wide loop are wide sheets of loop fabric, the soft fuzzy side. It is sold by the yard and used on panels for presentation booths at conventions and on display boards and pedal boards.

Types available :
- Laminated with Neoprene
2. Die Cut : to any custom Size and Shape as your design
3. Slitting : to a specified width
Specifications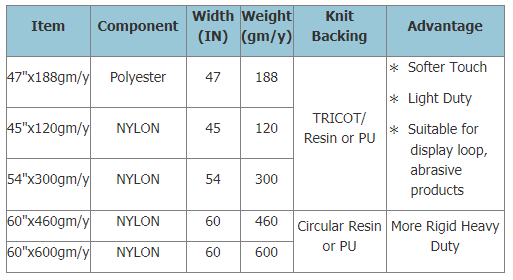 Our specifications are
available:
*Standard Put-Up:
Random roll packs to less the joints.
*Colors:
Black and White, Dye-To-Match colors available upon request.
*Minimum Order:
Recommendations
---
Small Order Recommendation